JGR Training are a team of specialist staff delivering highly effective vocational training programmes to employees and employers throughout South Wales.
Established in 2002, we have grown to become one of the leading training providers across South Wales, providing a range of accredited qualifications to employers such as MOD St.Athan, CGI, Autobahn Finance, Glamorgan County Cricket Club, The Welsh Pantry, Cardiff Student Union and The National Assembly for Wales.
Providing commercial and funded training, our mission is to enhance the skills and knowledge of your staff, enabling your business to grow with the right support, tailored for its needs.
Delivering qualifications accredited by City & Guilds and The Institute of Leadership and Management (ILM), JGR Training is a quality committed centre ensuring the employee and employers learning journey is a positive experience.
Based in Bridgend, we have a highly skilled team of trainers and assessors who are available to satisfy the training needs of individuals and clients across South Wales.
Our highly qualified trainers and assessors deliver our training programmes in a way which best suit the needs of the client or trainee, delivering one on one support at their workplace or remote training.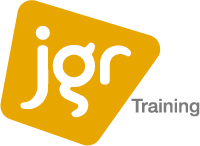 60 Nolton Street
Bridgend
CF31 3BP
01656 679662
trainingmailbox@jgr.co.uk