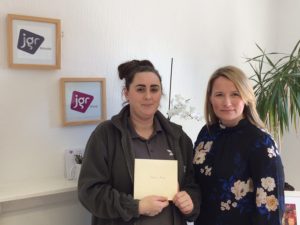 Congratulations to our 'temp of the month' for March 2019. Hannah Davies.
Hannah has been temping for our Neath office since the start of the year and has been an exceptionally reliable temporary worker. Hannah integrated and fitted into the team very quickly, nothing has been too much trouble and we are delighted to have Hannah representing JGR Group – thank you Hannah.
Hannah is pictured with JGR Group Director, Hayley Phillips, receiving her gift vouchers as our way of saying 'thank you'.
Hayley Phillips commented "As soon as we met with Hannah, we recognised that she had a combination of skills, experience and all the attributes required to make her a great candidate. We are pleased to have Hannah as part of our workforce."