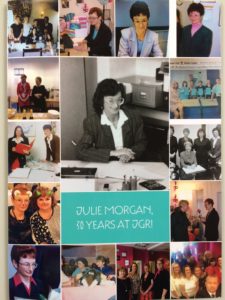 Today JGR Group celebrated and congratulated Julie Morgan on the remarkable milestone she has reached –
30 years with JGR Group!
Julie started her impressive recruitment career in 1989 and has not looked back since.
JGR staff were thrilled to celebrate with Julie and look back at the company photographs through the years, with Julie being the constant.
Julie said "I really can't believe I've been here 30 years – the time has flown by – but I can't think of anywhere else I would rather work. We have an amazing team of people here and, although I don't think I'll last another 30 years (!), long may JGR Group continue and go from strength to strength."
Daniel Edwards, Director, added "It is a pleasure to celebrate with Julie today. 30 years is an amazing achievement and we are extremely lucky and proud to have Julie as part of our team. We would love to keep her for another 30 years! I am not joking!".