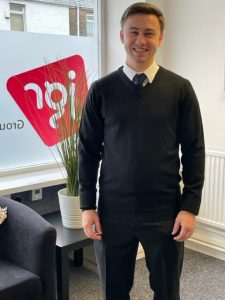 2022 continues to see growth for Recruitment at JGR Group. We welcome on board Benji Crooks who will join our recruitment team at Neath office. Benji brings a great technical knowledge to the team, along with recruitment and administrative experience. Benji will co-ordinate all temporary recruitment through our Neath offices and be the main contact for our candidates and clients.
Benji told us that he "is looking forward to a new challenge and really keen to start working with a well-established portfolio of clients and database of candidates". Starting in March 2022, Benji will be a key team member who will continue to drive the service levels forwards.
Daniel Edwards, Director, said "Benji is a great appointment for us at JGR. He is an excellent fit for our team and will have all of the right attributes to deal with our candidates and clients in the manner that JGR Group is so well respected for. Benji knows the area really well and has a great understanding of the locality. We are really looking forward to working with Benji at our Neath offices."
Benji has already started dealing with candidates, clients and contacts in the area, taking to the role with ease.
Hayley Robinson, Director, added "It is an exciting time for us in Recruitment at JGR and we are enthused by the prospect of continued growth. We are really pleased at the prospect of being able to drive our service levels up even higher. These are very positive times for JGR Group."
Welcome to the team Benji.