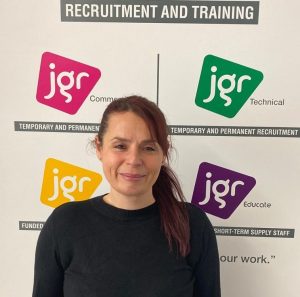 JGR are delighted to welcome Hiedi Gunter to the Group. Hiedi joins us as our Training & Compliance Manager, coming on board at the start of April.
With more than 15 years' experience with training, most recently with ITEC, Hiedi brings a huge amount of experience, knowledge and skills to the team – as well as a great manner and personality! Hiedi will oversee and manage JGR Training and work closely with Hayley, Lisa, Cath and Charlotte, to ensure that we continue to drive our training division onwards. With a keen eye for Quality, Hiedi will continue our work with local organisations to the highest of standards.
Hayley Robinson, Director, said of the exciting new appointment that "Hiedi is a perfect fit for our training team. Her skills and experience are very difficult to acquire, so we are really fortunate that we can welcome Hiedi to the business during these exciting times for our business. We are growing the Group and to welcome in a new member of Hiedi's calibre is really pleasing for us."
Hiedi recently completed the Cardiff Half Marathon in a new personal best time, so as well as making a warm welcome to JGR, we would also like to send our congratulations. Well done and welcome!